This is to provide a little insight to my experiences with Beza and Zeka. Just like my previous post on Thal, you can obtain a mission for these two zones which will only involve your group being in the zone. I have been typically using this to lvl my baby mage and get some aa's at the same time before I finally start progression officially in SoD. I have tried both instances and let me say that for AA, Beza is the way to go. I get around 9% AA/kill (at 400 aa's) and my baby gets around 14%AA/Kill (at 50 AA's) in this instance (always including one merc cleric making up the group of 3). My experience with Zeka is the same %/AA but probably better for reg. exp due to mob level increase. Which ever you choose, your instance will start with this guy...
http://eqbeastiary.allakhazam.com/search.shtml?id=26791
" onclick="window.open(this.href);return false;
for Beza simply walk up to him and say "first" and for Zeka, just walk up to him and say "disrupt". I find Beza to be easier simply due to the level of mobs 78-81 as opposed to Zeka which is 80-83 but your miliage may vary. These tasks do not respawn, (i.e. once you kill that static mob it wont ever respawn in the instance). Therefore this can make for a fun sat afternoon mission where you might need to go afk multiple times. For the areas of interest, the layout is the same in both zones (see below). What I do is just request the instance zone in and kill all mobs in red circle. Then I drop instance ( you get booted right back to fortrus mech. upon doing so - 2 min waite time) and just request instance again. Re-enter, wash and repeat mode. Easy pickens, and I hope some of you can find this info usefull even though it is old.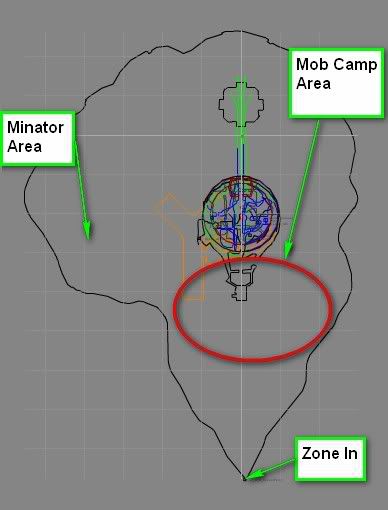 And yes, I know I spelled "Minotaur" wrong but didn't feel like re-editing the map....